Upcoming Events
---
September
September 20, 10:00 via Zoom: Triad Program: "Medicare-related fraud and Open Enrollment" presented by Ingrid Kundinger, MBA, Senior Medicare Patrol Program Director at GWAAR. Email TriadEvents@rsvpdane.org for the Zoom link.
September 21, 11:00 to 1:00: All of our volunteers will be recognized, and those volunteers who have given 4,000 hours of service will be presented with a Presidential Lifetime Achievement Award, and volunteers with 20 years of service will receive RSVP's Length of Service Award.
We will have a country theme this year, and the program will include entertainment by Shekinah King, wonderful door prizes, and a delicious lunch. Invitations will be mailed in August. To receive an invitation, volunteers need to have their hours submitted to RSVP for 2022 and/or 2023. Masks will be recommended, except when eating. Box lunches (salad and a hot entree) will be served at the end of the program. You may choose to eat at the event or take the meal with you. If you need transportation, please contact your senior center. If you have questions, please call Diana Jost, RSVP of Dane County, 608.441-1393. We hope you will be able to join us!
September 27, 8:00-12:00: Visit with RSVP representatives at the UW Colloquium on Aging, Gordon Commons Event Center, 770 W Dayton St, Madison.
September 28, 8:00-4:00: Triad's annual "Car Check" FREE vehicle safety inspection event sponsored by Smart Motors Toyota, Madison. Register for an appointment at https://bit.ly/carcheck23
October
October 5, 9:00 to 12:00: Visit with RSVP representatives at the Verona Senior Center Health Fair, Verona Senior Center, 108 Paoli St, Verona.
October 17, 8:00 to 12:00: Visit with RSVP representatives at the Madison Senior Center Health Fair, Madison Senior Center, 330 W Mifflin St, Madison.
October 20, 8:00 to 3:00: 2023 Triad Conference to be held in Madison. The goal of the Triad Conference is to provide valuable information on topics related to safety, crime prevention and healthy living for older adults. You can download the conference brochure with a complete list of speakers and topics at https://bit.ly/3PdZihd. You can register at https://conta.cc/454KkAh.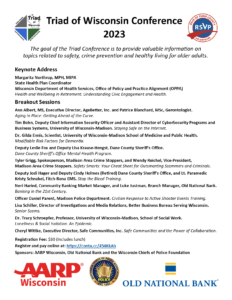 October 21, 8:30 to 1:00: Wayne D. Horner "Stand Down Madison." Salvation Army, 3030 Darbo Drive, Madison. Volunteers needed! Sign-up at https://www.standdownmadison.org/.
Help veterans who are experiencing homelessness or at risk of homelessness by being a buddy for a Vet or helping with kitchen, set-up, or take down of this event. All are welcome, don't need to be a veteran to volunteer. Meal and t-shirt provided.
October 24TH, 10:30 AM: Bus Buddies, Chazen Art Museum, 750 University Avenue, Madison. For information, contact Jan Karst, at 608-441-7891, or by email at jkarst@rsvpdane.org.