Enrich your life through volunteering
Volunteering brings many benefits—meeting new friends, staying active and healthy, and the satisfaction of knowing that you are making a difference. For over 50 years, the Retired and Senior Volunteer Program (RSVP) has been matching people, primarily age 55 and above, with fulfilling volunteer opportunities in 25 communities across Dane County.
We invite you to join us.
Good for the Soul
"Volunteering keeps me engaged in living, especially as I grow older. Doing for others is good for the soul."
– Senior Center Volunteer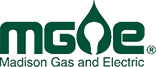 Thank You
to UW Health, Unity Point Health-Meriter, and Madison Gas & Electric, our 2022 Volunteer Appreciation Event major sponsors.